Strong registration numbers for ABIR-supported re/insurance course at Bermuda College
Strong registration numbers for ABIR-supported re/insurance course at Bermuda College
Opening class this week to feature international business roundtable with Bermuda's Finance Minister and the CEO of Arch Capital Group, Ltd.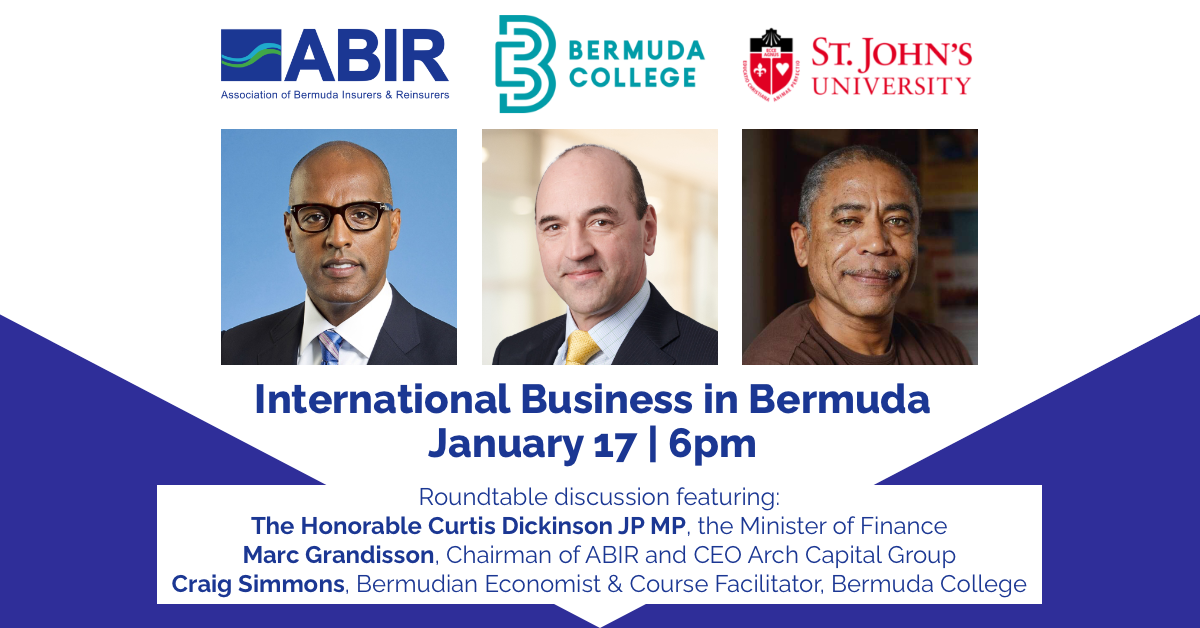 Hamilton, Bermuda (January 16, 2022) — The Association of Bermuda Insurers and Reinsurers (ABIR) announced today that more than 160 people have registered so far for the foundational insurance course offered by the partnership with Bermuda College and New York's St. John's University.
The second year of the online course launches Monday evening, January 17, with a roundtable discussion on international business, featuringMarc Grandisson, Chairman of ABIR and Chief Executive Officer of Arch Capital Group, Ltd; the Hon. Curtis Dickinson, JP, MP, the Bermuda Minister of Finance; and course facilitator Craig Simmons, Bermudian economist and senior lecturer at Bermuda College.
The 14-week series of classes is designed to give participants a foundational knowledge of the Bermuda's re/insurance sector and to provide a stepping stone towards a career in the industry. Hosted via Zoom on Monday evenings starting at 6pm, the sessions will feature presentations Bermuda re/insurance executives, regulators from the Bermuda Monetary Authority, and by St. John's University faculty.
John Huff, Chief Executive Officer of ABIR, said: "We are pleased to see strong interest in the course for the second successive year and would encourage any student, or member of the public with an interest in Bermuda's world-class re/insurance industry, to register. ABIR member companies are committed to building a diverse and inclusive workforce. We are happy to partner again with Bermuda College and St. John's University as we seek to attract future leaders to our industry."
International business is the largest employer among the economic activity categories listed in the Bermuda Government's Employment Briefs 2021 report, with a total of 4,240 full-time positions after four successive years of job growth in the sector. ABIR member companies are committed to the development of strong local workforce and provided educational scholarships with a value of more than $1.3 million in 2019, in addition to internships, graduate training programmes, tuition reimbursement and leadership training.
Mr. Simmons said: "The executives who present on the course are dedicated and committed to enticing more Bermudians into the industry. One concrete indicator of this commitment is the number of internships on offer. Last year, we had more internships than students. The gateway has never been this open. There is a global shortage of talent – and common sense says that you should tap into the local pool and nurture on-island talent. If you are thinking about a career in reinsurance, then you might want to register."
This week's roundtable promises to be insightful. Mr. Simmons said: "Whilst the discussion will revolve around the economic impact of the re/insurance sector and international business more broadly, we also want to touch on the social impact."
Topics covered by subsequent sessions with ABIR member company C-Suite executives will include the evolution of Bermuda's re/insurance industry and its economic importance; climate risk and Bermuda's leading position of providing natural catastrophe reinsurance; the growing legacy run-off industry in Bermuda; life and annuities; collateralised reinsurance; captive reinsurance and Bermuda's regulatory regime.
Bermuda College students can enroll for the course and earn eligible credits. The lecture series is also open to members of the community who wish to learn more about Bermuda's international re/insurance industry, at no cost.
To register for 'Special Topics in Insurance: Foundations of Bermuda's International Re/Insurance Sector', visit the Bermuda College website at www.college.bm.
# # #
About ABIR: The Association of Bermuda Insurers & Reinsurers (ABIR) represents Bermuda's major property and casualty insurers and reinsurers doing business in 150 countries. Bermuda is an internationally recognized center of global expertise on underwriting for catastrophe, climate, cyber, mortgage & credit risk transfer products, along with other specialty insurance and reinsurance. For more information, please visit: www.abir.bm. Follow us on Twitter @ABIR_Bermuda.
About Bermuda College: Bermuda College is an internationally recognised accredited community college, which offers associate degrees, certificates, and diplomas in the areas of applied sciences, business, technology, hospitality, and the liberal arts. Bermuda College is accredited by the New England Commission of Higher Education. For more information, please visit www.college.bm.
About St. John's University: The Maurice R. Greenberg School of Risk Management, Insurance and Actuarial Science, has a rich history and tradition. It was formed initially as the Insurance Society of New York in 1901, and became the School of Insurance in 1947 and the College of Insurance (TCI) in 1962. GSRM evolved from the merger of TCI and St. John's University in 2001. For more information, visit the website.