Bermuda Leaders to be Featured at US National Association of Insurance Commissioners (NAIC) International Insurance Forum
ABIR Chair & Arch Capital Group CEO Marc Grandisson & Bermuda Monetary Authority Deputy CEO Craig Swan to participate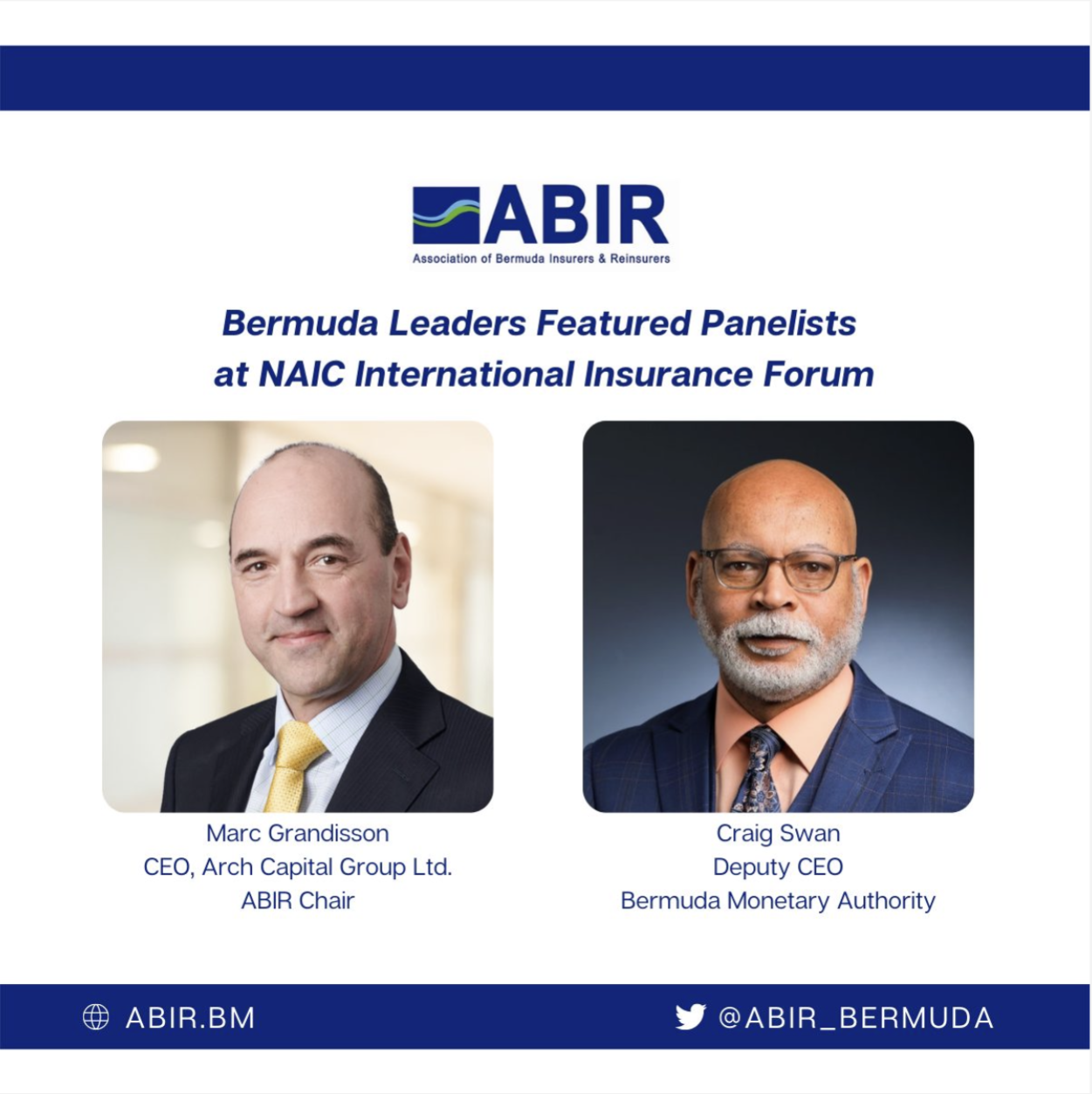 Bermuda Leaders to be Featured at US National Association of Insurance Commissioners (NAIC) International Insurance Forum
ABIR Chair & Arch Capital Group CEO Marc Grandisson & Bermuda Monetary Authority Deputy CEO Craig Swan to participate
Hamilton, Bermuda (May 13, 2021) – The U.S. National Association of Insurance Commissioners (NAIC) will hold its flagship international event, the NAIC International Insurance Forum, livestreamed on May 25-26.
Bermuda re/insurance leaders Marc Grandisson, Chief Executive Officer of Arch Capital Group Ltd. and Chair of ABIR along with Craig Swan, Deputy CEO of the Bermuda Monetary Authority will be featured panelists at the virtual forum.
Mr. Grandisson will participate on the C-Suite Panel: Executive Viewpoints – Confronting Change in the Insurance Industry. Panelists will discuss how the protection gap, digital transformation, policyholder protection and the debate over business interruption claims, volatile markets, and inflationary pressures all stand to shape the future.
Alongside the pandemic, movements around the globe for social justice and racial equity have sparked change, and panelists will share perspectives on how, against the current political backdrop, the industry can advance inclusion through access to insurance. The global leadership capabilities Bermuda continues to provide in natural catastrophe risk management and the logical extension into climate risk finance will be highlighted. The session will be moderated by NAIC CEO, Michael F. Consedine.
"ABIR and the Bermuda market continue to play a leadership role in the conversations around the global issues of the day. Re/insurance and risk management solutions are more important than ever in providing capital and stability to the post-pandemic, rebounding economy," said Grandisson. "I am pleased to participate and represent the Bermuda market at the NAIC flagship international forum."
Mr. Swan will present an international insurance supervisory perspective on in a SupTech (Supervisory Technology) Panel – Embracing Innovation in Supervision. The pandemic has accelerated many insurance supervisors' use of technology in a variety of ways to enhance and streamline supervision.
Panelists will discuss how jurisdictions are successfully incorporating SupTech into their regulatory toolkits and how technology might continue to shape supervision in the future, including trends for further development of supervisory technology, potential lessons for the insurance industry, and possible market and consumer implications. The panel will be moderated by Gary D. Anderson, Chair, NAIC International Insurance Relations (G) Committee, and Commissioner, Massachusetts Division of Insurance.
Randal K. Quarles, Federal Reserve Board Vice Chairman for Supervision, will share insights into some of the issues at the top of the Board's agenda and also the ongoing standard setting work of the Financial Stability Board.
As the flagship international event of the NAIC, the Forum will explore key developments in the insurance sector and the evolution of insurance regulation around the globe.
"As an NAIC highly recognized 'reciprocal jurisdiction,' Bermuda fills an important role in keeping insurance affordable and accessible for U.S. insurance consumers. Bermuda's leading insurers and reinsurers, working collectively as ABIR, represent the industry at home and abroad, and contribute significantly to the important public policy discussions for our international industry," said John M. Huff CEO of ABIR and former President of NAIC (2016). "State insurance commissioners and the NAIC, celebrating 150 years in 2021, are to be commended for their leadership in developing and leveraging market leading oversight of international re/insurance markets."
Information on registration for the NAIC International Insurance Forum can be found at: naic.org/international_forum.
# # #
About ABIR: The Association of Bermuda Insurers and Reinsurers (ABIR) represents Bermuda's major property and casualty insurers and reinsurers doing business in 150 countries. Bermuda is an internationally recognized center of global expertise on underwriting for catastrophe, climate risk and cyber-risk transfer products along with other specialty insurance and reinsurance. For more information, please visit: www.abir.bm. Follow us on Twitter @ABIR_Bermuda.